GCSSD is currently accepting applications for NEW Substitute Teachers. The substitute training course cost is $29.00. Once you have submitted a completed substitute teacher application, go to gcssd.org >Menu >Quick Links >Substitute Training Course. Please send the certificate at the end of the training course to Brad Garner at GCSSD. Contact Brad Garner at
garnerb@gcssd.org
for more information. Returning Substitute Teachers…check your My Benefits Channel for the 2021-22 Substitute Training Course.

Attention Parents, If you have a child who is attending Kenton School this year and must take medication at school, you must obtain the health care providers signature on the medication form prior to any prescription medication being administered. We will not fax forms this year. There is also a place for parent /guardian signature and phone number. Also, due to the new mandates and protocols being implemented at our schools, it is highly encouraged that all morning medications be administered at home prior to arrival. Medication sheets are available for pickup at the school. The same paperwork with a parent signature is required for any "Over the Counter" medications to be administered. Example: Tylenol, Benadryl, Ibuprofen, etc. A health care provider's signature is not needed for over the counter medications unless dose is different than that on the bottle. Medication Guidelines: 1. Prescription Medications require a doctor's signature on the proper medication sheet or the medication will not be administered. 2. All prescription/over the counter medications have to be brought in by a parent/guardian only. 3. Once you arrive at the school with the student's medication please ring the door bell and ask for the nurse. The nurse will then meet you at the door and accept the student's medication. The medication will be counted by the nurse in front of the parent/adult. 4. If your student's prescription medicine is a suspension/liquid then please provide enough for at least two weeks to a month of doses. This way outside contact will be limited between parents/staff. 5. Prescription Inhalers will also require new medication sheets with directions and a doctor's signature. 6. Prescription Epi-Pens require a medication sheet and a doctor's signature. The school does have Epi-Pens available for Emergencies only. 7. All prescription medications must be brought to school in the properly labeled container from the pharmacy. Ask the pharmacist to label a medication bottle for home and school if you will need to keep some medications at home. 8. All prescription medications must be up to date. We will not administer medications from last school year. 9. All Over the Counter Medications require a parent's signature. Students can't bring any meds to the nursing office. 10. Over the counter medications must be brought to school in an unopened bottle with the label attached and visible. Write your students name on the bottle or box. We do not administer adult doses to children so be sure you purchase the correct dosage. Medication must be in date. If you have any questions please feel free to contact me by email at:
callinsa1@gcssd.org
I will be glad to help you in any way possible. I'm excited for a new school year and I look forward to seeing all the kids. Thanks,    Amanda Callins, LPN

Job Opportunities ~ Working at GCSSD is exciting & rewarding! For the latest job opportunities go to
https://gcssd.mysmarthire.com/jobs/
(Use Google Chrome) Equal Employment Opportunity

Job Opportunities ~ Working at GCSSD is exciting & rewarding! For the latest job opportunities go to
https://gcssd.mysmarthire.com/jobs/
(Use Google Chrome) Equal Employment Opportunity

GCSSD is happy to report that we have been selected to participate in the Second Harvest Summer Backpack Feeding Program. This grant is funded by the "Enterprise Rent-A-Car Foundation" and will provide free breakfast and lunch daily this summer beginning Tuesday, June 1 through Monday, June 28, 2021. Food will be sent home with eligible students attending the Summer Learning Camp or may be picked up with food from the cafeteria at Dyer School or South Gibson County Elementary School (SGCES). Food will also be available for pick-up at Dyer School and SGCES on June 21st from 1:30—2:30 by families associated with any school in GCSSD. Click here to view the menu:
https://www.gcssd.org/browse/144850


We were informed this morning by TDOE that we will not be receiving all 3-8 and EOC TNReady scores until June 10. We are required to count TNReady scores if they are returned within 5 business days of the last day of school. Since the state did not meet this deadline, we are not required to count the test scores in the overall student average. We recognize the need to finalize student grades. Therefore, we will not count spring TNReady scores. This will allow teachers to finalize grades at this time. Report cards will be finalized by June 3.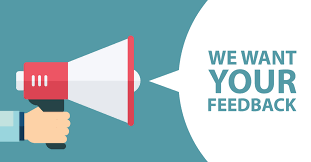 Gibson County SSD Summer Feeding Program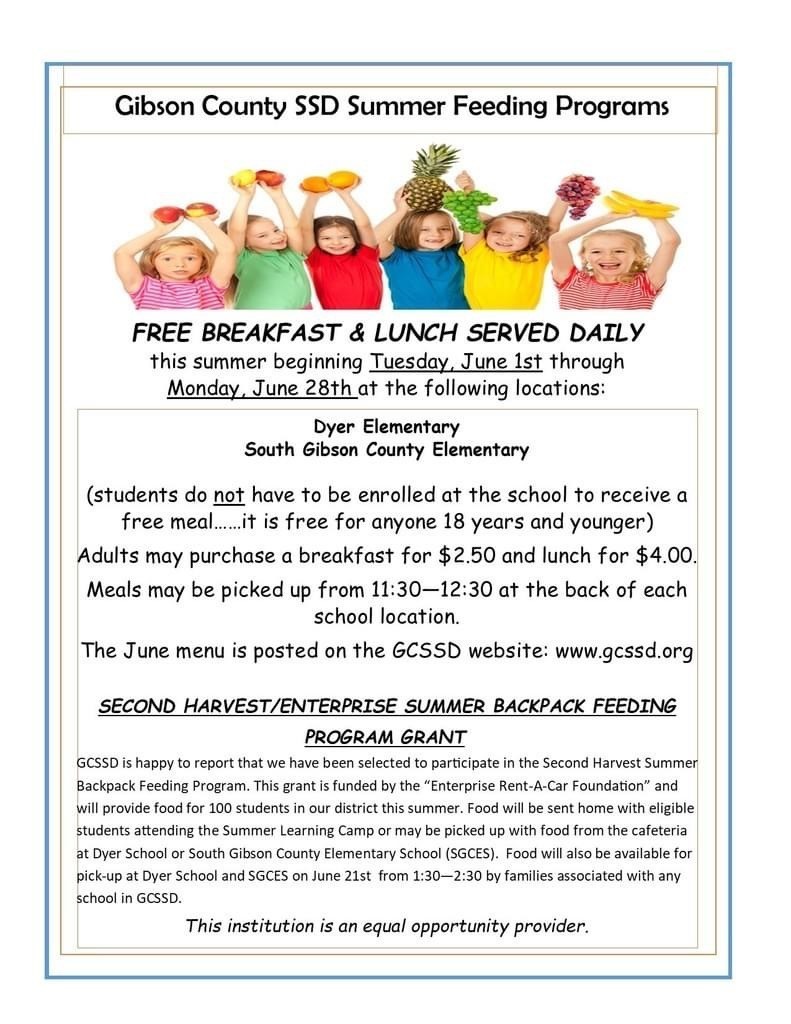 GCSSD will receive TNReady scores on May 28, 2021. Your students TNReady score is added as a part of their Q4 grade. The score will only be added to the students grade if the score will improve the students overall grade. Teachers will be adding those scores to the gradebook on or before June 4, 2021. Grades will then be finalized and report cards will be posted via PowerSchool Parent Portal on June 7, 2021.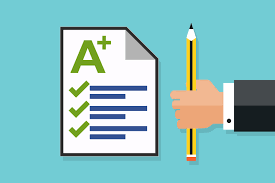 IMPORTANT ANNOUNCMENT: If your child qualified for our Summer Camp Program, he/she received a letter of conformation on Monday. The letter must be returned to your child's teacher no later than Wednesday, May 21st.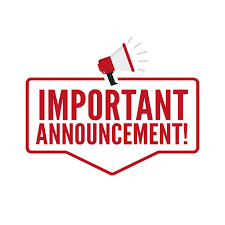 Job Opportunities ~ Working at GCSSD is exciting & rewarding! For the latest job opportunities go to
https://gcssd.mysmarthire.com/jobs/
(Use Google Chrome) Equal Employment Opportunity

May Breakfast and Lunch Menu 2021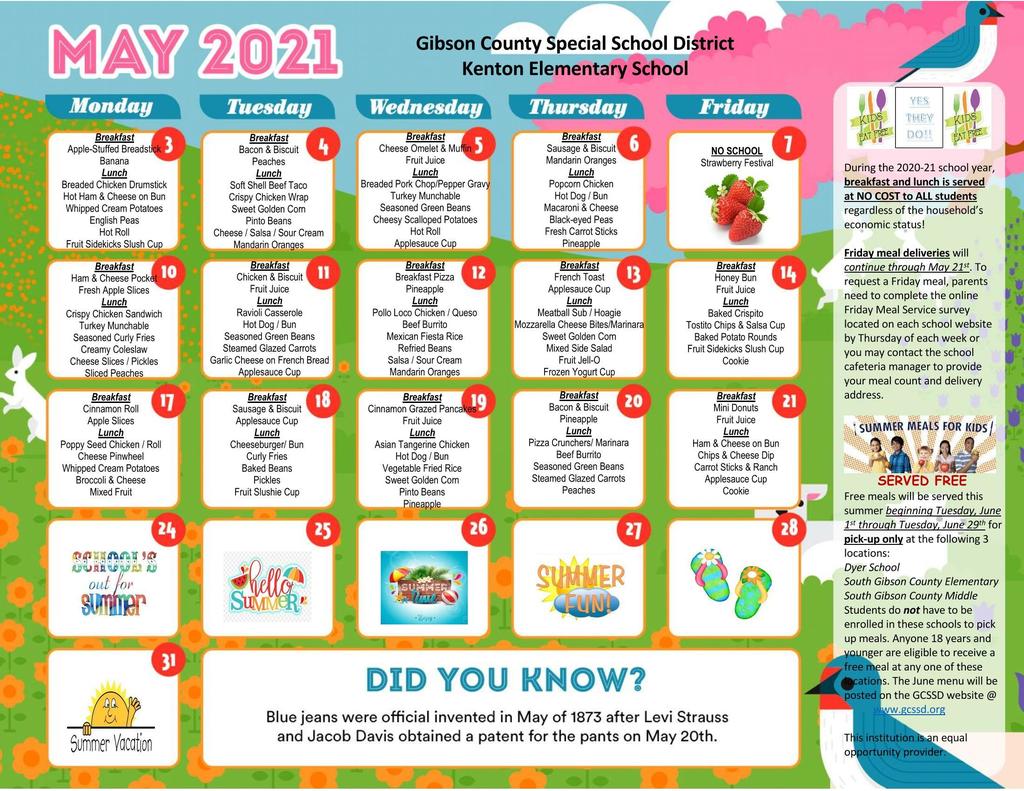 Cheer Tryout information for current grades 4 through 7 will be coming very soon! In the meantime, if your child did NOT cheer this year, they will need a current physical filed in the office in order to tryout. The forms are in the office for you to pick up and have the doctor fill out for you. If your child did cheer this year, their physical is current through May, but they must have their physical completed and the forms turned into the office by June 1.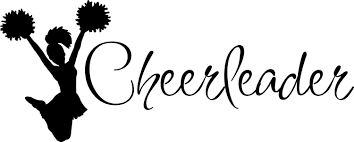 The Lifeline Blood Drive for tomorrow Tuesday April 13th has been cancelled. Make up day for this will be determined at a later date


Important reminders regarding drop-off & pick-up.... To remain orderly and conduct a swift, safe drop-off/pick-up for all we ask that you: -Encourage your child to have their things ready in order to get out of the vehicle in a timely fashion. -Please park in the lot to assist your child if they are unable to get in/out of the car alone. -Please pull forward to the colored dot where your child will be waiting in the afternoons. -Park if you need to speak with a staff member and handle that through the office. We have these procedures in place to keep the traffic flowing smoothly and to keep all students safe.


Breakfast and Lunch Menu March 2021

RADA fundraiser has been extended. Please submit order forms and money on or prior to March 3rd.